The Linz refrigeration unit and cooling technology specialist HAUSER has adopted the king penguins at the Vienna zoo on the grounds of Schönbrunn Palace. A plaque bearing the company's name is now on display outside the penguin enclosure at Schönbrunn. "The HAUSER trademark penguin has always been associated with the company, ever since the first logo was registered 75 years ago", says Thomas Loibl, CEO of HAUSER GmbH.
The animal adoption programme – making a difference
Dr Stephan Hering-Hagenbeck, the director of the oldest zoo in the world, explains why adoption programmes are so important for Schönbrunn Zoo, especially now: "Animal adoptions provide us with important financial support that helps us to cover the zoo's running costs. HAUSER's contribution really makes a difference, especially in these challenging times."
All good things come in threes
The king penguin couple at Schönbrunn Zoo produced their third clutch of chicks on 16 July. The parents share childcare duties, with the father taking care of the chicks while the mother forages for food and vice versa. Penguins stay faithful to their mates for their entire lifecycle. The same principle is reflected in HAUSER's company philosophy: the company is a dependable long-term partner for its customers in the refrigeration industry.
HAUSER on course for success
HAUSER has enjoyed strong growth in recent years. Our turnover has more than tripled since 2010. In the last financial year, the Group achieved a turnover of 321 million euros with 1170 employees. "Despite the challenges of the current crisis, HAUSER is continuing on its course of growth and success. We can thank the dedicated commitment of our team for this", says CEO Thomas Loibl.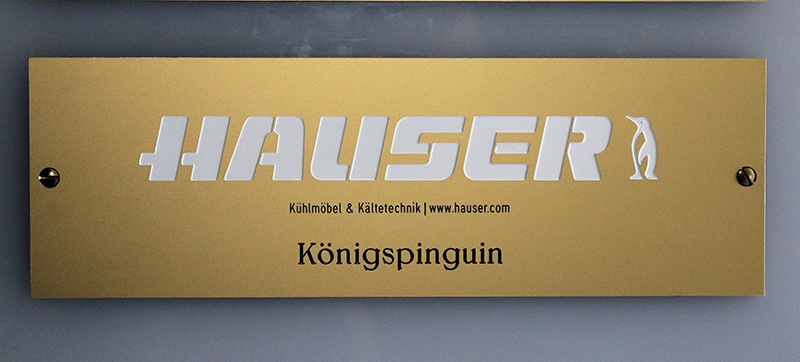 Bottom picture:
Dr Stephan Hering-Hagenbeck (Director of Schönbrunn Zoo) presents the adoption certificate to Dipl.-Ing. Thomas Loibl (CEO of HAUSER GmbH).